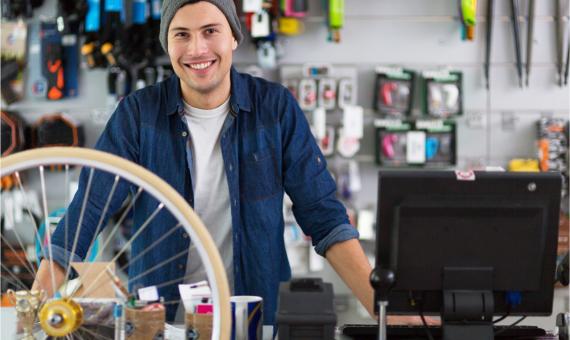 If you run a bicycle shop, you need a versatile and light-weight POS that is as efficient as the man-powered vehicles that you sell. You are going to need to keep track of your inventory, including dozens of parts if you deal in repairs; you're going to need to keep track of sales; and you're going to want to stay ahead of the curve and get a birds-eye-view of all of the processes of your business as well. One way to handle all of these complex details and have all of the analytics that you need right at your fingertips is to employ a simple, high-performance POS like the all-in-one POS system. This is one of the most advanced point of sale systems that you can get for the money, and it is fast, efficient, and high-end both in the realm of software and in the realm of hardware. Let's take a closer look at the different ways that this set-up can benefit your bicycle shop:
Cash and Cashless
Need something completely integrated and easy-to-use that can handle all sorts of transactions? The all-in-one POS system can deal in cash, as well as debit cards, credit cards, and even checks—and it can do it all in one integrated system. Even if you are a relatively small operation still, there's no need to disappoint your customers by not being able to handle the kind of transaction they need when you can simply use a POS such as the all-in-one POS system .
Analytics and Reporting
One of the best things about any our POS systems, but especially the all-in-one POS system is how it simplifies and organizes all of the intricate data of your business into very easy-to-read reports. You can access these reports from anywhere, since they are stored locally on your resident machine, as well as on the cloud. Work remotely and keep a handle on the processes of your business even when there is physical distance between you and your employees, and you'll be able to catch and analyze any potential issues before they become problems. You can also keep an eye on sales trends and other data that might help you to make your bike shop more efficient.
Having these sorts of features can save you a fortune on bookkeeping; whenever you need a certain set of data, it's as easy as simply printing it out from the database. Don't worry if your Internet is down, either; thanks to the all-in-one POS system large storage capabilities, you have plenty of room for local files and they will be easily accessible even in the event of an Internet outage.
Customizable
You can customize the software's interface and other features to suit the needs of your particular business. This is a huge advantage, especially when you are running a specialty shop like a bike store. Rather than go with a one-size-fits-all POS, you can build your point of sale system around you and your employees, and this will save you a lot of time.
Track Employees
Time Keeping your employees clock-ins organized is a task in and of itself, and the all-in-one POS system this beautifully. It's important to keep an accurate—and ideally digital—record of when your employees work in order to keep your payroll costs from being unnecessarily exorbitant. In addition, the system keeps the cost of record-keeping itself rather low.
Fast Hardware
The all-in-one POS system has top-of-the-line hardware for a POS, especially for the cost, which makes it a great value. Don't sit there waiting for your system to respond to all of your frustrated button-mashing; get an all-in-one POS system and you'll have some speedy hardware and ultra-responsive software. Your customers will appreciate the quick checkout process, just as you'll appreciate the efficiency. Another nice thing about the all-in-one POS system's form factor is that it is essentially an all-in-one machine, so it takes up very little space. You don't have to make room for a clunky desktop tower or any of those other archaic pieces of hardware, so you can save quite a lot of counter space. It has a very sleek look that would fit in great at any modern, urban bicycle shop.
Interface
One of the great features of the all-in-one POS system is its intuitive touch interface. If you know how to use a tablet computer, then chances are you'll have no problem working with this POS. As mentioned before, this interface is customizable, so no matter what kind of business you have or what stage of growth you're in, you can make this POS match your needs perfectly. In addition, as you business grows larger, you can change the interface to suit your needs, so you won't have to worry dealing with a POS that no longer accommodates you.
Support
You are too busy trying to get people back on the road (or sidewalk, or bike lane, or nature trail) to deal with technical difficulties when it comes to your POS, so the last thing you want to do is to have to tinker with your system when there's a problem. Though the all-in-one POS system is quite robust, chaos exists in the universe, and there are always going to be the occasional hiccups; it's just unrealistic to not expect this to some extent. During those kinds of moments, you don't want a company that's going to leave you to your own doom. You have stuff to do, and you need to get going again immediately, so North American Bancard offers 24/7 support for their all-in-one POS system, as well as for their other systems.
While getting set up and keeping things running is usually intuitive enough to not require any intervention on their part, it's nice to know that they're there if you ever need them.
You opened your bike shop to help get your customers moving; a all-in-one POS system will help get your business moving faster, more efficiently, and with the kind of reporting and analytics that you need. If you want a POS that has everything—and includes all of the support you will ever want—give the all-in-one POS system a try.